My favourite food by far is pizza. However, it can be an expensive habit when you're young and on a budget. When I moved to Atlanta, I was searching for a great recipe to replace one of my favourite pizza places and save some cash.
The biggest change you can make to a pizza is the crust. Finding a good crust was the biggest challenge. I found some good options along the way, but this is my go-to now.
I really like this crust because it stretches and gets thin easily. That was actually one of my biggest struggles when looking for a good crust. So many doughs were too sticky or would tear too easily so it was impossible to get the kind of crust I was trying to emulate. There are so many crust varieties, and I know people have very strong opinions on them. The way I make this crust is to copy Ohio pizza, which is a thin crust, similar to Donatos if you're familiar with that chain.
Ok first things first, what do we need. I've adjusted this down to make 1 large thin crust pizza for 1 – 2 people. If you want to make more, it is easy to scale up.
Supplies
Mixing bowl or stand mixer
Spatulas
Measuring Cups and spoons
Pizza stone
Pizza peel or cookie sheet
Parchment Paper
Rolling Pin
Rolling Mat (highly suggested not required)
Ingredients
1 cup Flour
3/4 tsp Yeast
1/2 tsp Salt
1/2 tsp Baking Powder
1 1/2 tsp Oregano
1 1/2 tsp Minced Garlic
1 1/2 Olive Oil
3 oz. (6 Tbsp) Warm Water
Steps
Somethings you may notice are odd about this recipe. First you'll see yeast, but no sugar. This recipe breaks some yeast bread rules, but bear with me. Rules are meant to be broken so we'll just consider them guidelines.
One thing that makes this easy, first step throw all the ingredients into your mixing bowl in order.
Combine ingredients. If you aren't using a stand mixer, I find it easiest to use a spatula to combine all the ingredients. Combine until it becomes a ball. Continue to work and knead it for 2-3 minutes. If the dough isn't coming together or is too dry, add a little more water. If it is too sticky, add a little flour.
Drizzle some olive oil over the dough ball and on the sides of the bowl. Roll the ball so that all sides are coated and won't stick to the bowl during the rise.
Let the dough rise for 30 minutes in a warm place until doubled. Cover the bowl with Glad Press 'n' Seal or saran wrap. A damp towel works too, but not as well. I've found that you get a much better rise with a good seal like Press 'n' Seal gives.
Spread your rolling mat onto the counter or sprinkle some flour if not using a mat. If you can get the parchment paper to stay in place, you could also try rolling on that.
Roll the dough as thin as you can or like. Be sure to vary the direction to push the dough into a round shape. It probably won't be a perfect circle, but if that's important to you roll is past your max size then cut to shape.
Transfer dough to parchment paper before dressing.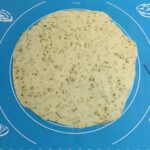 Print Recipe
Garlic & Oregano Pizza Crust
A nice workable dough to make a wonderful thin crust pizza crust.
Servings:
1
Large Pizza Crust
Equipment
1 Mixing Bowl

1 Plastic Wrap

1 Pizza Stone

Highly Suggested but not Required
Ingredients
1

cup

all-purpose flour

¾

tsp

instant yeast

½

tsp

salt

½

tsp

baking powder

½

Tbsp

oregano

½

Tbsp

minced garlic

½

Tbsp

olive oil

3

fl oz

warm water

or 6 Tbs
Instructions
Mix all ingredient in order to mixing bowl.

Mix until ingredients come together in a ball. Add more flour if too sticky, and more water if too dry.

Knead in the bowl for 2-3 minutes.

Add some oil to the sides of the bowl and roll the dough so each side is coated.

Let rise for 30 min. until doubled in size.

Roll dough out into a circular shape rolling until as thin as possible. Cut to size if too big for your pizza stone or baking sheet.

Move the dough to parchment paper before adding toppings.

Preheat the oven to 425°F with pizza stone inserted.

Sauce and add toppings as desired.

Cook for 13-15 min. or until crust is golden and crisp.
Notes
Nutrition Facts
Servings: 1
Amount per serving
 
Calories
539
% Daily Value*
Total Fat 8.6g
11%
Saturated Fat 1.3g
6%
Cholesterol 0mg
0%
Sodium 1173mg
51%
Total Carbohydrate 100.6g
37%
Dietary Fiber 5.1g
18%
Total Sugars 0.5g
 
Protein 14.6g
 
Vitamin D 0mcg
0%
Calcium 175mg
13%
Iron 8mg
42%
Potassium 502mg
11%
*The % Daily Value (DV) tells you how much a nutrient in a food serving contributes to a daily diet. 2,000 calorie a day is used for general nutrition advice.
Sauce
This is my favourite pizza sauce. Of course, you can always use store bought, but I never liked the flavour. Turns out that was one of the reasons I didn't like homemade pizza for so long.
This recipe, however, is so simple. It also is a pretty good copy of the sauce my favourite chain uses. I use this sauce regardless of the type of pizza I'm making.
Supplies
Jar or container
Spatula
Measuring Spoons
Ingredients
6 oz. can of tomato paste
1/2 tsp Basil
1/2 tsp Salt
3/4 tsp Sugar
9/10 Can of Water
Steps
This is one of the easiest recipes ever.
Take an empty jar. I reuse old sauce jars I've collected from my parents, but if you have mason jars or even pickle jars would work (after you clean them out, of course).
Scoop out the tomato paste into the jar. I have a spatula I love for this, plus it came from the Dollar Tree so win-win! It is the perfect thinness to fit in the can, plus it is double sided so you can use it for the dough too.
Take the empty can and fill it 9/10 full of water, and add to the jar.
Add the other ingredients.
Replace the lid, and shake well to combine all ingredients.
Let sit in the fridge for 3 days for optimal flavour saturation. Although, I've used it immediately too and it still works, but not quite as good.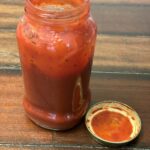 Print Recipe
Pizza Sauce
A simple excellent pizza sauce
Ingredients
6 oz

can

tomato paste

9/10

can

water

use the tomato paste can

½

tsp

basil

½

tsp

salt

¾

tsp

sugar
Instructions
Mix all the ingredients into the jar. Use the can from the tomato paste to measure the water. Fill to about 9/10 to the top of the can.

Replace the lid and shake to mix all ingredients.

Store in fridge until ready to use. Let sit for at least 3 days for optimal flavor, but can use immediately if needed.
Baking the pizza
After you've moved the dough to parchment paper. You can sauce it to taste, and add cheese and toppings. I have found that it is actually better to use provolone cheese instead of the typical mozzarella. Give it a try!
I also suggest after you add all of your toppings to add a sprinkle of grated parmesan or Italian cheese and oregano. It really takes it to the next notch of making it taste boughten.
Bake at 425°F for 13 – 15 minutes until the crust is golden and crisp. I find the best time to warm up the oven is after the dough rise. Make sure your pizza stone is in the oven before you turn it on so it warms up with the rest of the oven. I highly recommend a pizza stone. I use it for my breads as well.
To transfer the dressed pizza to the oven takes a bit of a learning curve. Using the parchment paper has made all the difference for me. Use a pizza peel or a thin cookie sheet. I actually bought the pizza pan from the dollar tree for this purpose. Since it is so cheap, it makes me not worried about cutting the pizza on it too.
So, take your transfer tray and line it up with the end of the pizza at the edge of your prep surface. Take the corner of the parchment paper and slide it over to the transfer tray.
Once it is on the tray, you can open the oven and slide the pizza onto the pizza stone. The paper should make it slide slowly and smoothly.
To take the pizza out again, just do the same thing in reverse. It is easier on the way out since the crust will be crisper and everything melded into one.
Cut and enjoy!
Pizza is a personal preference, there are no rules. These are more like guidelines anyway.