I've been there a many times as a child with my family, as a teenager, and as an adult with my friends. I've lost track of the amount of times I've visited, and I interned there for a summer. I consider myself an unofficial expert, no big deal.
My recommendation is to let go of some of your parental urge for control. Always keep your kids safe, but most of the exhibits are setup so that there is only 1 entrance and exit. I recommend loosening the reigns a little and let the kids explore of their own volition. Of course, you know your kids best and wait until they are old enough to understand the rules – no one leaves this exhibit alone. You can explore with them or sit at the entrance to keep an eye on them.
Where to start…
I guess, like all things, at the beginning. The museum operates its own, private parking garage right next to the museum. Best part, its totally free!
The best place to park in the parking garage is the 3rd floor on the side closest to the museum. 3000 North Meridian Street, Indianapolis, IN 46208
Seems odd, but there's a very good reason. The museum has a sky walk from the parking garage to the interior of the museum. You never have to go outside. There is a crosswalk on the street level, but the museum highly discourages – to the point of not allowing – people to use the crosswalk. This is because people drive pretty recklessly in that area, and they frequently run the stop light directly above the crosswalk. Especially if you're visiting with small children, the skywalk is the safest option to getting to the museum.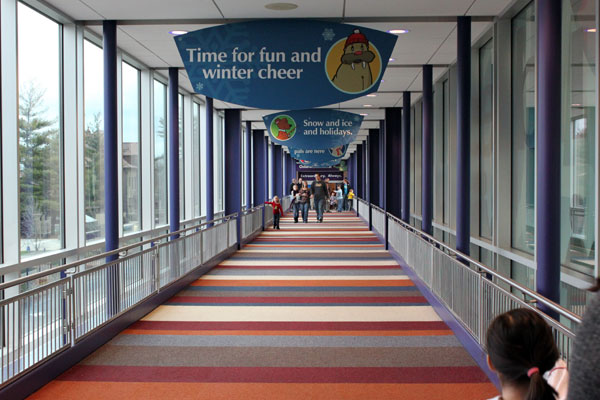 Beginning Your Visit – Inside the Museum
After entering the museum, you'll be in a large atrium (Floor 1). The entrance to Dinosphere is on the right toward the front and easily accessible. When I visited as a child, this is where we would always start. It is the proper entrance to Dinosphere, but not the only one. The designers at the museum do an amazing job of designing the entrances to each exhibit so that they set the atmosphere and mood. That has caused a duality in my opinion of where to start. Now I would say the best place to start is Treasures of the Earth for a first visit.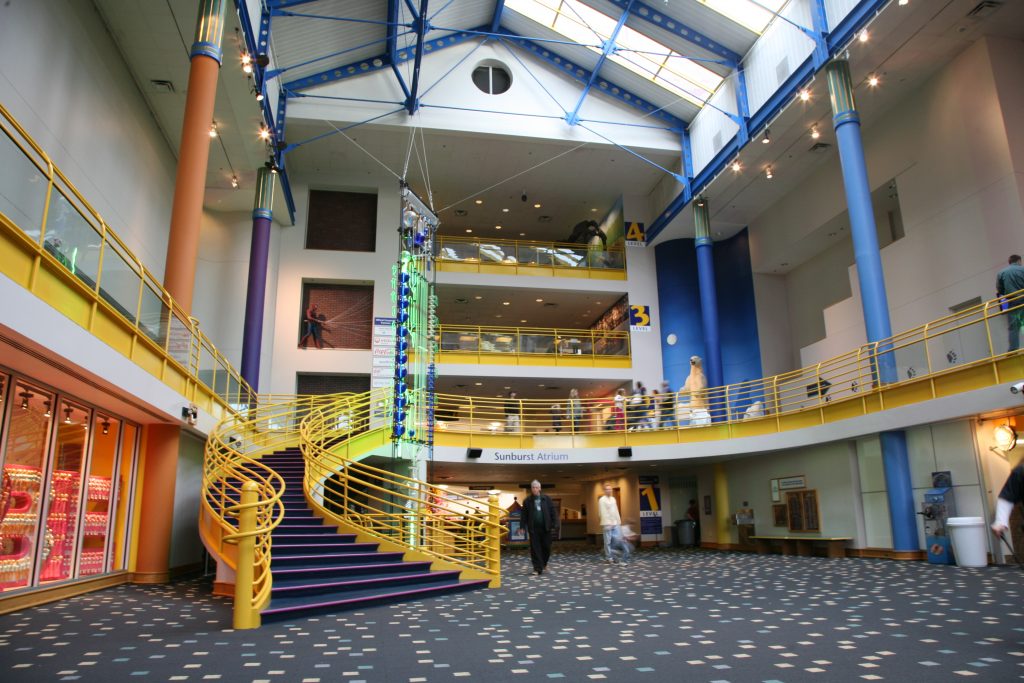 Be sure to stop and get a map and list of presentations throughout the day. They have actors performing reenactments, presentations, and fun activities all day. Use this to find any presentations you want to be sure to hit and adjust your schedule to be in the exhibit during the presentations you want to see.
The Structure of the Museum
There are 5 Floors all connected by a winding ramp system. I love this system. It makes it so easy to go from floor to floor without using stairs or elevators. Elevators are still an option. There are 2 sets of elevators: a set on the side closest to the atrium, and a set on the right side (when facing the ramps with your back to the atrium). The ramps are so friendly to an environment with lots of strollers and little feet that wouldn't enjoy using stairs. Plus, there's no waiting for elevators.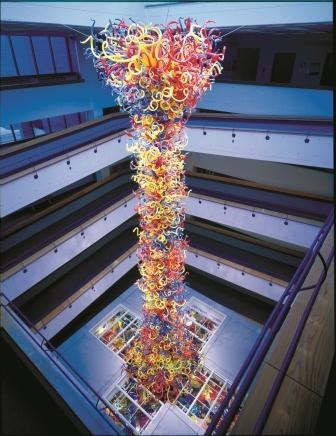 We loved running up and down these ramps (as long as there was no one else around us) when we were kids. It was an easy way to let the kids have fun and be free while keeping them still in sight. The ramps have clear platform entrances on each floor, so it's easy and clear when to stop.
Bathrooms

Most adults don't need to plan this ahead of time, but if you are going with children it can't hurt to know ahead of time where the bathrooms are. They aren't hard to find, if you know where they are, but they're a little hidden. Expand section to read more.

Lower Level

There are Family Restrooms outside of Dinosphere on the way to All Aboard!.

There are men's and women's restrooms next to the Lilly Theater in the main area. These are the closest restrooms to The Lilly Theater, Beyond Spaceship Earth, and Treasures of the Earth.

First Level

As you exit the atrium towards the main museum and information desk, the restrooms are on either side of the entrance; women's on the left and men's on the right. These are the closest to The Food Court and The Museum Store.

Second Level

There are family bathrooms outside of Take Me There.

Third Level

There are family restrooms and nursing areas inside PlayEscape.

Fourth Level

Men's and Women's are on the right side just on the other side of the elevators opposite from Carousel Wishes and Dreams. This is the closest restroom to Carousel and Scienceworks.
There's no right or wrong way to do the museum. All of the exhibits stand on their own and can be done in any order. This is how I would do it.
National Geographic's Treasures of the Earth
Location: Lower Level Main Entrance: Level 1 Theme: Archaeology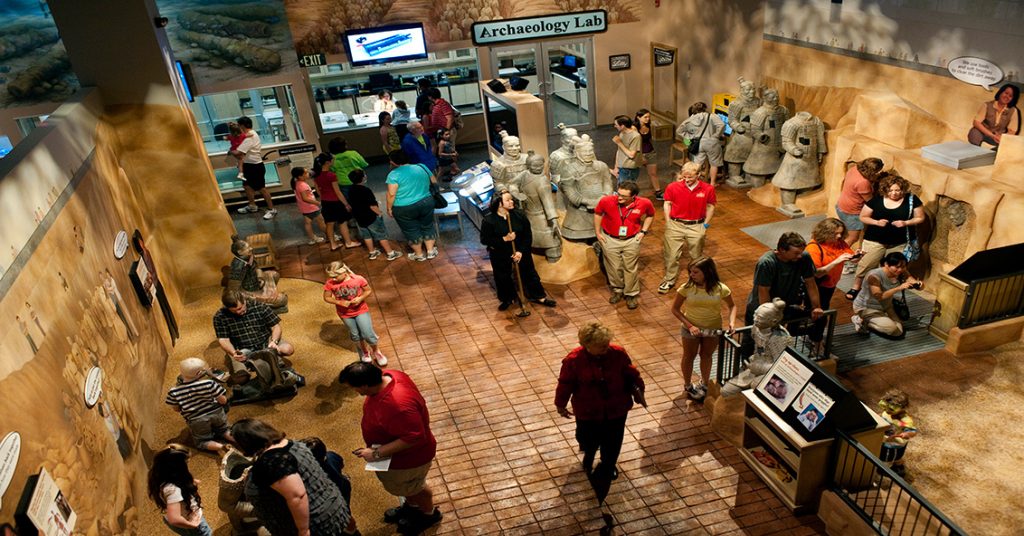 If you go straight into the museum from the atrium and turn right, there is an entrance to Treasures of the Earth. It's really easy to miss because it's very small and unassuming. That's because it's a ride!
Before getting onto the ride/entrance, be sure to check out the small exhibit just to the right of the entrance. There you can see some information about the exhibit and actual props used in the Indiana Jones movies!
To properly start this exhibit, there is an elevator ride to simulate the experience of being lowered into an Egyptian tomb dig site. There's a little video presentation talking about what you're about to see. The ambiance is really fun too.
Upon exiting the ride, you'll see the entrance to the exhibit. It's split into 3 parts. From left to right: Seti's Egyptian Tomb, Captain Kidd's Shipwreck, and Terra Cotta Warriors – all based on actual archaeological digs.
These are fun, interactive exhibits. There are tunnels to climb in, etchings on the walls to touch, and even some terra cotta warriors to rebuild. The exhibits do a great job of catering to all ages. There's plenty to do, but there's also plenty to learn. Through placards and hands-on activities. There is even an active lab with real archaeologists working on active specimens! You can interact and ask them questions or watch presentations.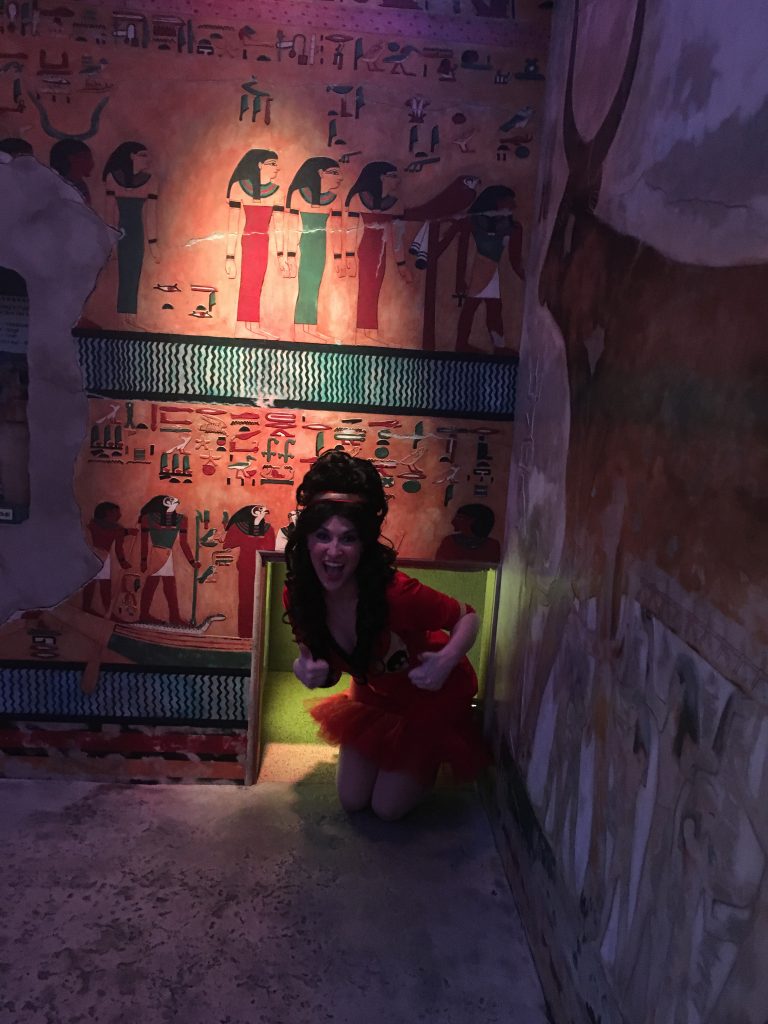 For us this has always been one of the quicker exhibits. Take it at your own pace, and enjoy everything. You never know what cool tidbits you'll find in a corner somewhere.
For those who visited the museum in the past, this exhibit took the place of What If? (1992-2010).
As you exit and head back to Floor 1, make sure to grab some free tickets to the Lilly Theater show at the ticket booth at the base of the ramp.
Dinosphere
Locations: Lower Level Entrance: Level 1 Theme: Dinosaurs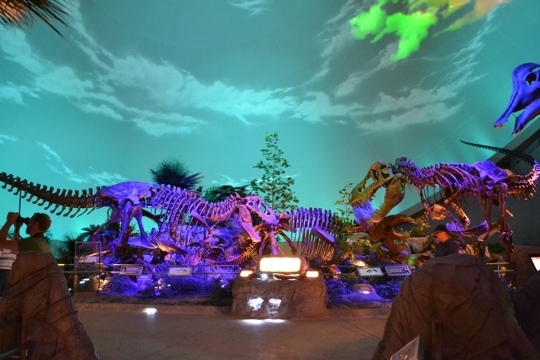 The next thing to do would be the other optional first thing to do. If you're not riding the elevator to Treasures of the Earth, then start at Dinosphere.
The best entrance to Dinosphere, especially if you've never been before, is on Floor 1 in the Sunburst Atrium. It may seem silly to go all the way back up to Floor 1 when you're just going to go back to Lower Level, but the walk to Dinosphere is made to slowly "transport you into another world". There are flying fossils of pterodactyls and information placards as you descend. Honestly, it just doesn't feel right entering Dinosphere from any other entrance. It feels like you're coming in from the back door, because you kind of are. If you don't want to break your flow, I might suggest waiting on Dinosphere until after lunch. If you go back to the food court or the pack lunch spot, you'll be back at the the Level 1 entrance and could then use the Level 1 (Main) entrance to Dinosphere.
Dinosphere is an amazing exhibit. As you enter you are thrust into the world of the dinosaurs. The dome creates a full affected atmosphere, and it changes constantly. Every half hour there's a storm. There's also gorgeous sunsets, and day scenes. You can feel the atmosphere shift during all of these.
There are several fossils on display. Unlike most other museums, they display the actual fossils in the exhibit and not only replicas. There's actually a placard that shows which of the bones are fossils and which are replicas. Some are replicas simply for the sake of completing the structure because those pieces weren't recovered.
There are lots of fun activities alongside the educational ones. Dinosphere hosts fun, short tunnels to crawl into and become part of the exhibit. There's also a costume section where you can pretend to be a dinosaur building it's nest and taking care of eggs. One of the highlights is the excavation site. Kids can don some safety goggles and become an archaeologist themselves as they try to uncover fossils.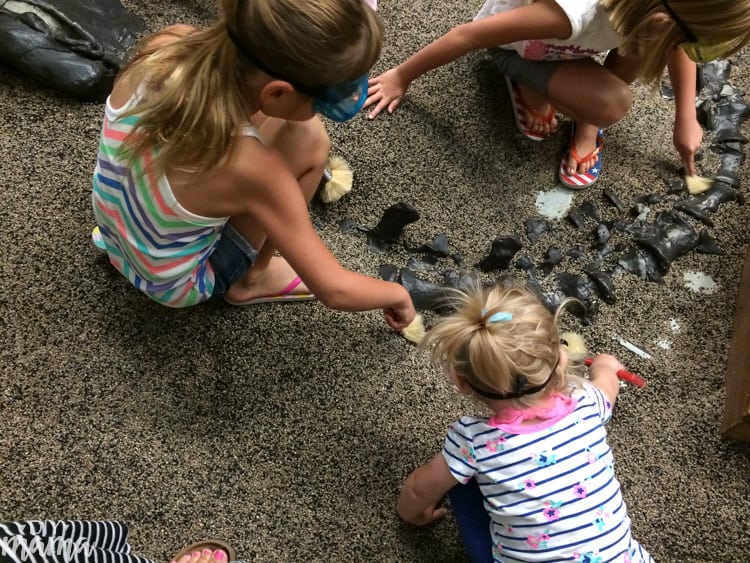 Dinosphere also features an active paleo lab with some real paleontologists who you can talk to and ask questions. You can even get the change to touch a real fossil they're currently working on.
A frequently overlooked part of Dinosphere is that it actually spans 3 floors. The main floor is on LL, but it expands upwards. It even has it's own private elevator and staircase that stays within Dinosphere. On the second floor of Dinosphere, there is an overlook. It's actually almost hidden when you're on the main level, but it's a cool way to see the exhibit from above.
One more level up and there's an entire exhibit about paleo-art. Did you know there were artists that specialize in adding life to the fossils that are discovered? This exhibit is on the older side, as in, little kids might not be super interested. Since I was pre-adolescent when Dinosphere was installed, my friend and I would go up there by ourselves and play with the clay modeling and tracing stations. It also has a second, higher overlook, but the second floor is better in my opinion.
You can spend a lot of time in Dinosphere. It is always one of our longest. Keep that in mind, and make sure you leave enough time to not feel rushed. Another reason we frequently do it first.
All Aboard!
Location: Lower Level Entrance: Lower Level Theme: Trains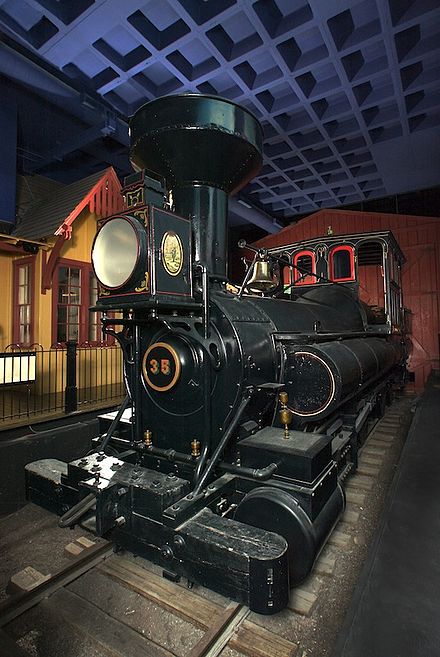 The natural exit to Dinosphere leads directly into All Aboard! one of the oldest exhibits at the museum. It has been a part of the collection since 1968. This exhibit features a real life locomotive, the Reuben Wells, from around 1868. The current building was built around the train in 1976. The train runs a light and sounds show every 15 min.
You can go inside the car behind the engine, and sit in it. There's video presentations you can watch, and the windows have videos that make it seem as if you are riding.
There's a section where you can dress up, and pretend to be a ticket master handing out tickets. There are usually toy trains to play with in this section as well.
You can also see models of trains in their hay-day and even crawl through to a peek-out inside the train display. Make sure to look up as there is a train running around up above.
The exit to All Aboard! brings you back to the main section of the Lower Lever outside of Treasures of the Earth.
Fireworks of Glass
Location: Lower Level Entrance: Lower Level Theme: Blown Glass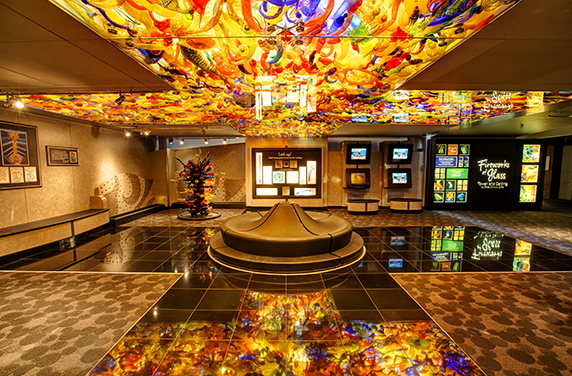 You may have noticed the 43 foot tower of colorful spirals the ramps surround. Fireworks of Glass was installed in 2006, and is the work of renown artist Dale Chihuly. It's a gorgeous centerpiece to enjoy all day.
On the lower level, there's an exhibit dedicated to this art piece. It's a great chance to slow down and enjoy the art, and learn about glass blowing. There's a fun video game where kids can "design and blow" their own piece of glass. It's actually a really fun way to learn about all the steps to glass blowing.
This is a really relaxing exhibit and totally engaging even though there's so little to it. The black circular bench in the center of the exhibit actually slowly turns. This lets you lean back and really take in the base of the glass ceiling. The ceiling is see-through so you can take in the whole base of the piece. It makes a gorgeous ceiling to the exhibit, and there's so much that you can sit and look for a lot longer than you would think. There's even a hidden object game you can play, looking for specific pieces in the ceiling.
We frequently hold off on this exhibit until later. Toward the end of the day, there's usually less people there. You do not want to bother with this exhibit if there's a crowd. Plus, it gives us a chance to get off our feet and relax for a little while after being on them all day.
Outside this exhibit, you can find the ticket booth to the Lilly Theater. They run 2 shows daily except Mondays. The tickets are free, but you need to pick them up before hand to get a seat.
Beyond Spaceship Earth & ISS
Location: Lower Level Entrance: Lower Level Theme: Space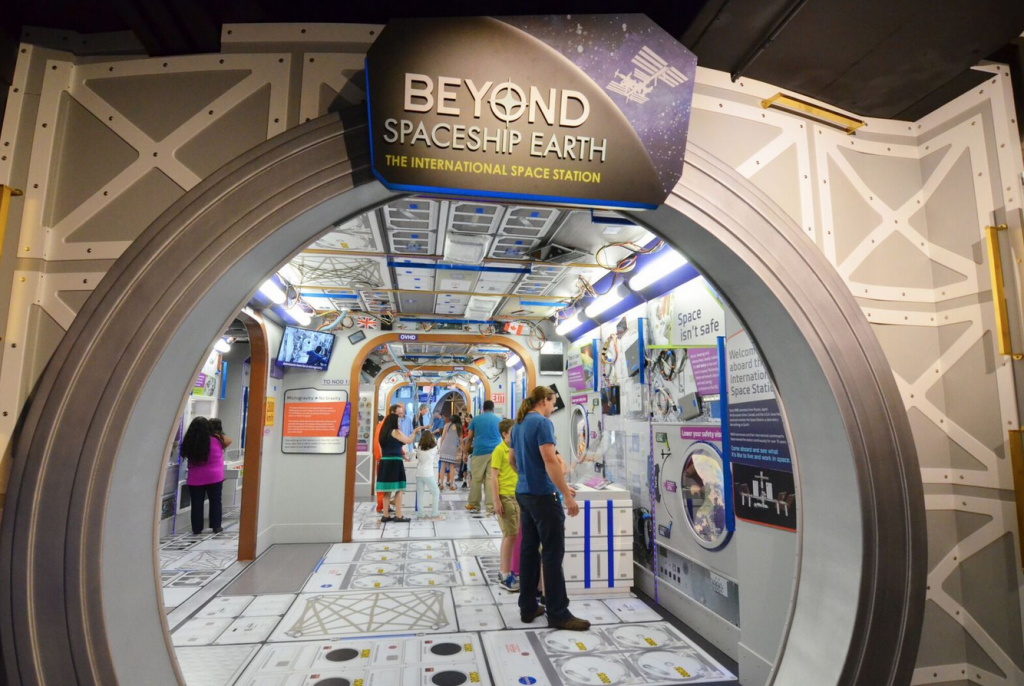 This exhibit opened while I was interning in 2016. I was so pumped about this exhibit, and it did not let me down. I adore Beyond Spaceship Earth.
The exhibit is a replica of the interior of the International Space Station (ISS). It lets you explore what it's like to live and work in space. There are games that focus on themes about space travel, along with information to learn more about living in space.
At the entrance near The Lilly Theater, you can put on some space packs with various countries flags. You can wear the proper gear as you pretend to run space walk missions and explore.
At the end of the ISS, you can continue into a planetarium dome that now houses the actual Liberty Bell 7, the 2nd U.S. capsule ever flown in space! It tells the story of Gus Grissom's flight into space and return. Outside the theater you can find props and memorabilia related to space and various space related shows, such as Star Trek. Even if you don't sit for a show, look for an opportunity to visit the exhibits inside the planetarium between shows.
The Lilly Theater
Location: Lower Level Entrance: Lower Level Theme: Live Theatre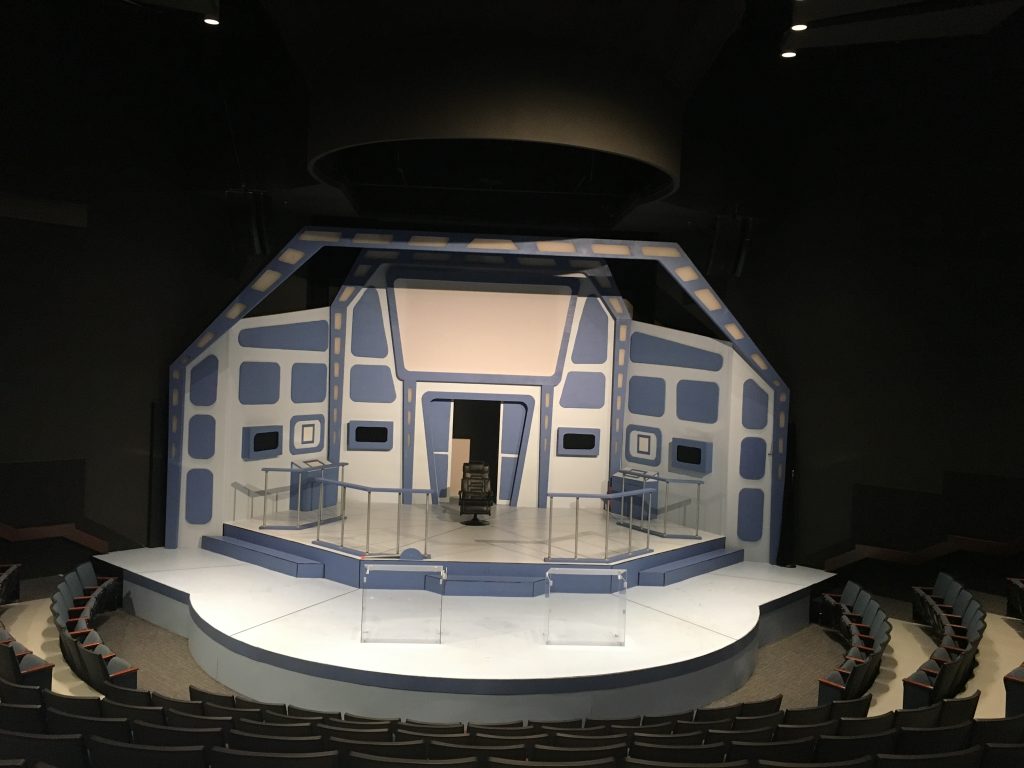 One of the hidden gems of The Children's Museum is The Lilly Theater. This frequently overlooked exhibit can be loads of fun, and a great opportunity to get off your feet for a bit.
They run 45 min. shows that are geared for children, but fun for adults too. The show I worked on in 2016 cracked me up – and I saw it twice a day for a whole summer! Their shows change regularly. There's usually a Christmas show, a spring show, and a summer show. So you can see a different production every time you visit.
The theater is very child friendly, I mean that makes sense, they will let you in and out if you need to handle an upset child. Most theaters you can't enter and exit, but please! the actors and staff would greatly appreciate it if you excuse yourself with a crying baby and return when all is well again. You can even choose not return to if necessary. It is not a babysitting service though, so don't plan on leaving your kids or napping for 45 min.
If your kids adore the show, they can even get the opportunity to meet them after the second show. The actors frequently do a meet and greet after their last show. They are such fun people.
The theater requires tickets, but luckily they are free! You can obtain them in the morning ahead of time at the booth outside Fireworks of Glass, at the bottom of the ramp.
Take Me There
Location: Level 2 Entrance: Level 2 Theme: Cultural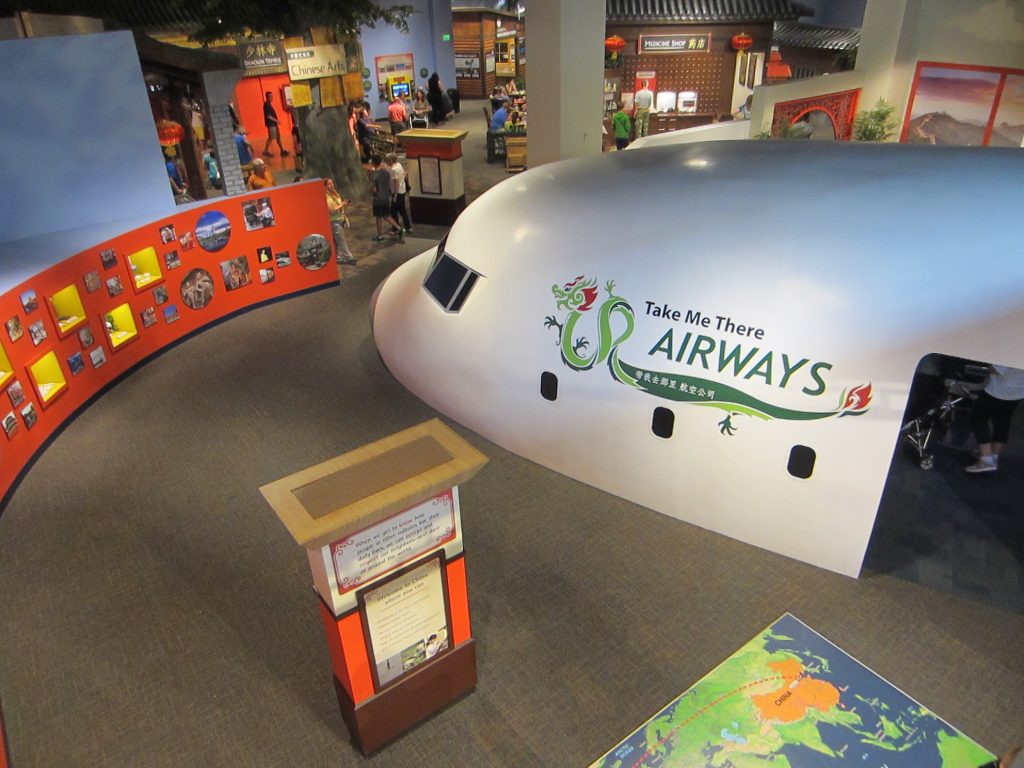 This is another exhibit I adore. I remember the first time I visited and I was blown away with how well done and engaging it was.
Take Me There is a permanent exhibit with a rotating theme. Every 4 years or so they change which country the exhibit features. The first time I visited it was Take Me There Egypt, then it rotated to Take Me There China. Currently, it is Take Me There Greece. One of the reasons my siblings and I went back as adults was to see the updated country.
This exhibit begins by you entering a plane. There's plane seats and a short video to pretend that you've flown to another country. You exit in Greece!
You can then explore apartments designed from two different families living in that country to give an idea of how people live all around the world. You can visit stores and markets modeled just like the ones you can find in those countries.
All along the way there are hands on activities to experience things unique to that culture. For example when it was China, you could write with a brush and copy Chinese script. There were crafts you could make and take home as well.
They frequently have live performances and gallery interpreters throughout this section. Check the information sheet you grabbed at the information booth for exact times and descriptions.
This is a must see exhibit and is friendly for all ages.
If you visited in the past, this replaced Passport to the World (1986 – 2008)
Rotating Exhibits
Location: Level 2 Entrance: Level 2 Theme: Rotating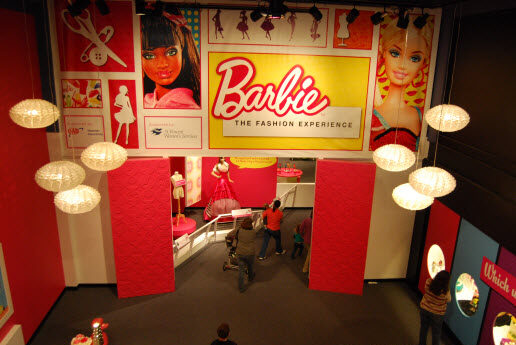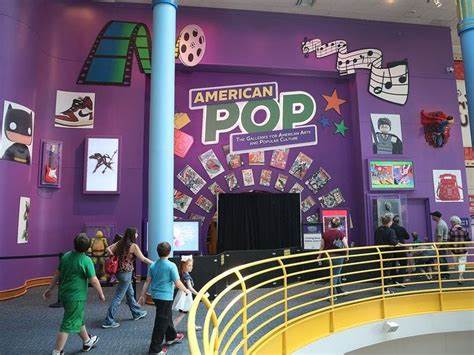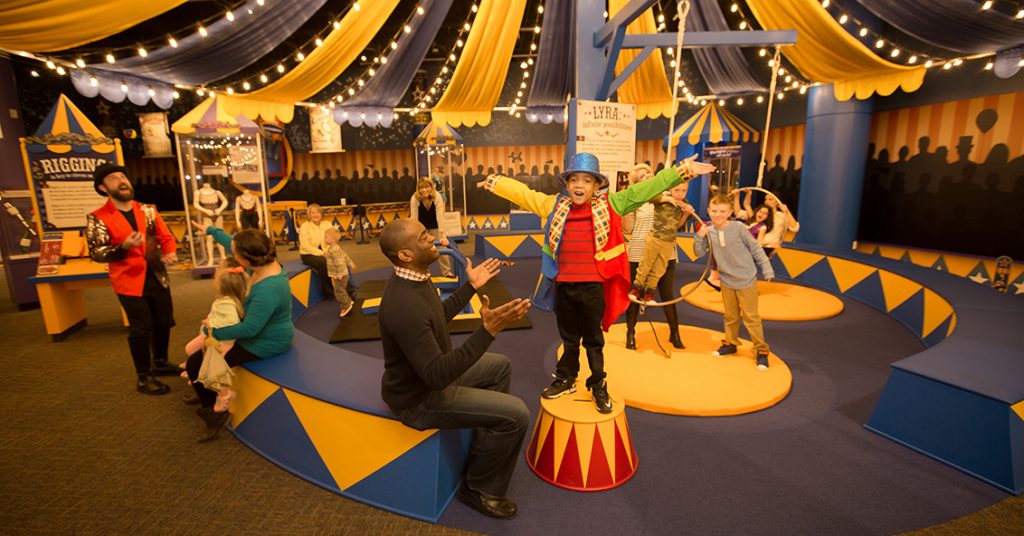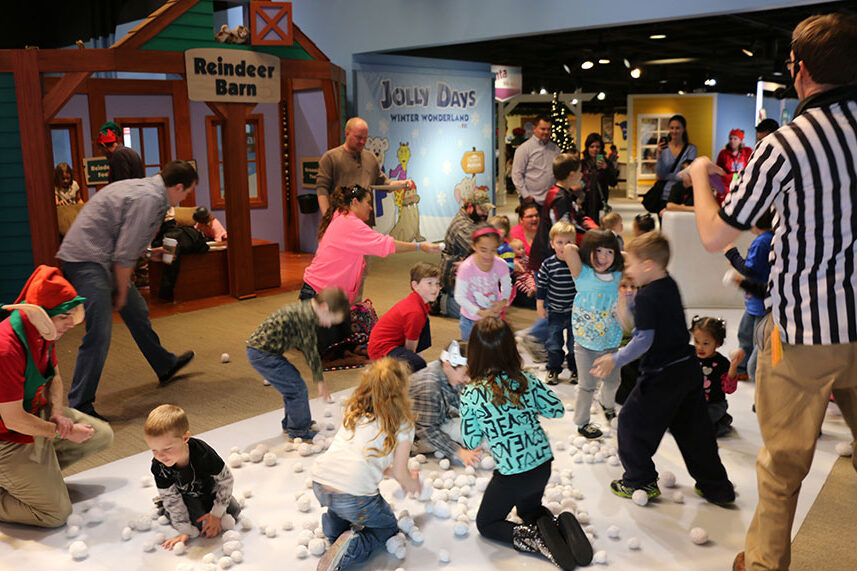 Rotating exhibits at the museum are always changing. These are a great way to always keep TCM fresh, and they're so fun.
There are 3 galleries that house temporary exhibits. They are all on Level 2. There's one on either side of the Sunburst Atrium, and another just inside the museum on the right (above Treasures of the Earth.)
Some of my favourite exhibits have come through these galleries. I remember a circus exhibit when I was younger, and appears to have had a reappearance recently. I also remember a Spies exhibit. That exhibit was epic! We visited so many times while that was set up (thank goodness for a membership). It was all about espionage, codes, the art of disguise, and spy gear. It was awesome, and so hands on. I think you can tell I still miss that exhibit.
Usually one of the rotating exhibits will be tuned toward younger children while another may be older. While I was interning, we opened a Doc McStuffins exhibit in coordination with Disney Junior. While at other times, there has been a Titanic and King Tut exhibit. I remember in the Titanic exhibit you were given a name at the beginning of the exhibit, and then at the end you looked up your name to see if you survived or not. Fun idea, but a little morbid. I remember the exhibit was more like a typical museum with less fun hands on things than most of the others. Recently, we returned to check out the Minecraft exhibit. There were little kids and adults having fun seeing and interacting all their favourite elements from Minecraft.
There are a couple reoccurring rotating exhibits such as Jolly Days and the haunted house. I've never been to the haunted house because I think it costs extra, or it did. Jolly Days is fun though.
Jolly Days
Jolly Days is part of the Christmas theming the museum does. It's set up as Santa's village with "ice skating", "snowball fights", and "ice-fishing". You can also visit Santa and Mrs. Clause and get a picture with him. It's a busy exhibit, but still quite fun.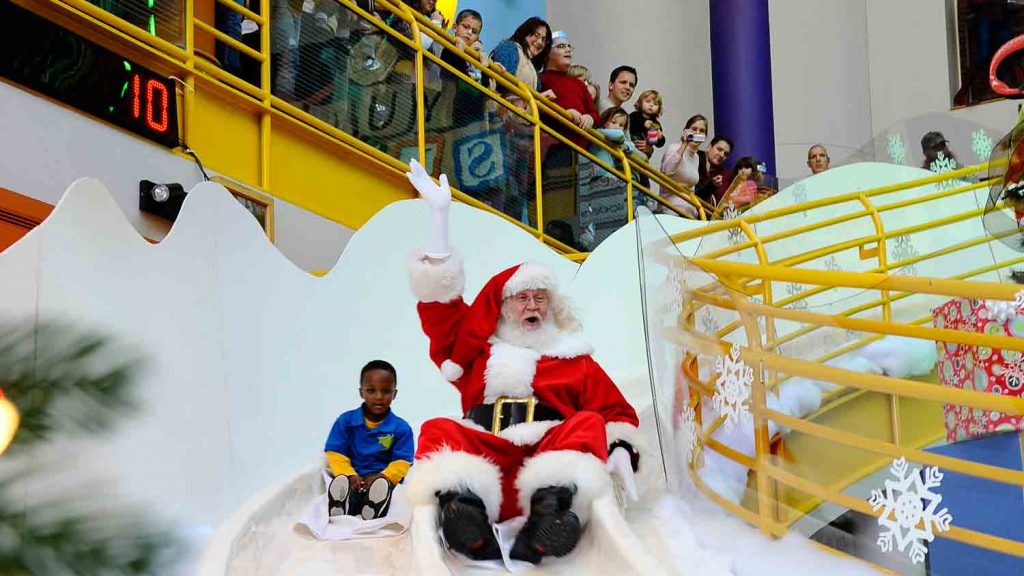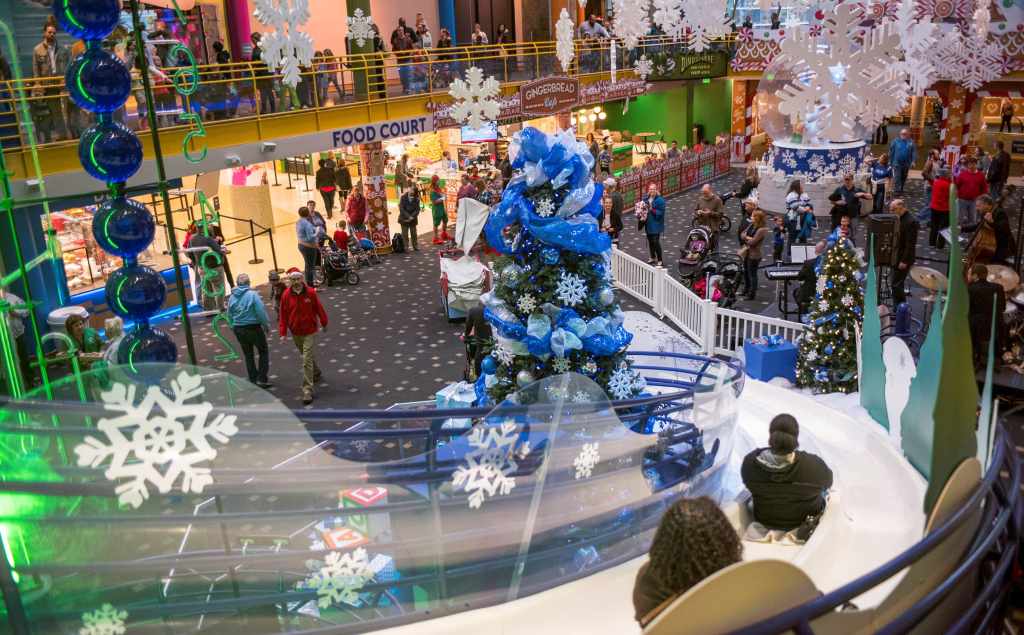 Be sure to check out the rotating exhibits while you're there, it may be your only chance to see them!
Playscape
Location: Level 3 Entrance: Level 3 Theme: Young Child Enrichment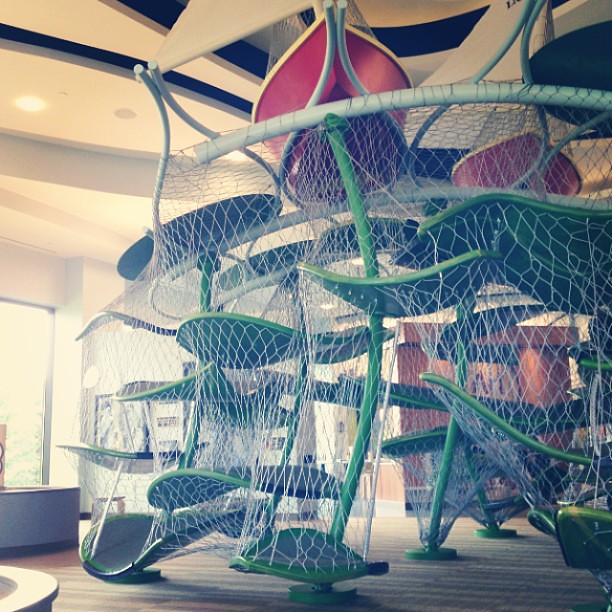 Speaking of exhibits catered to young children, Playscape is a no-big-kids-allowed gallery. Only children 5 and under are allowed in this gallery.
When I was young, one of my favourite exhibits was Playscape. Of course, I was able to enjoy it longer than most since I could accompany all of my younger siblings into the exhibit when they were the right age. I was so sad when we all finally aged out.
The exhibit is completely different than when I was a kid, but it is still so cool. I haven't been able to explore it since I'm not 5 yo, but I was given a tour once. It's so cool. Those 5 year olds are lucky ducks.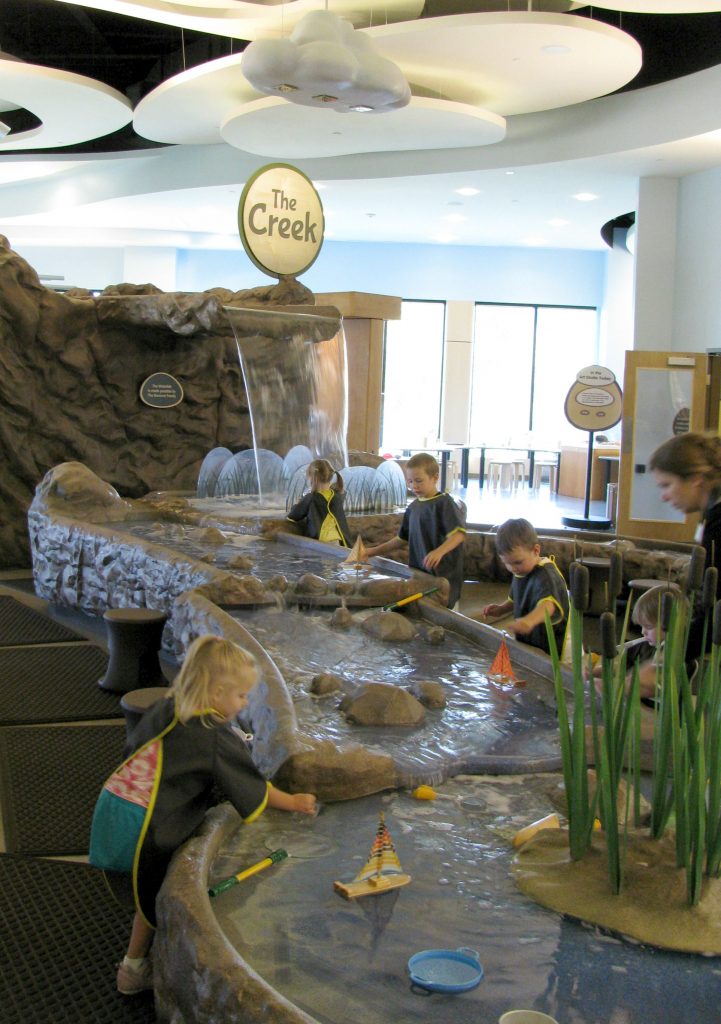 There's a whole crawl and climbing space that looks like leaves stacked, and a gentle stream for the kids to play in. They also do music enrichment sessions led by a gallery interpreter that gives little kids their first experience with instruments.
This gallery also features nursing rooms, and quiet rooms to give moms and kids some needed space.
Seriously, try to catch a peak if you can, but you won't be allowed inside. There's an actual guard at the door who will stop you if you're not 5.
The Power of Children: Making a Difference
Location: Level 3 Entrance: Level 3 Theme: Children who changed the world despite bias of their time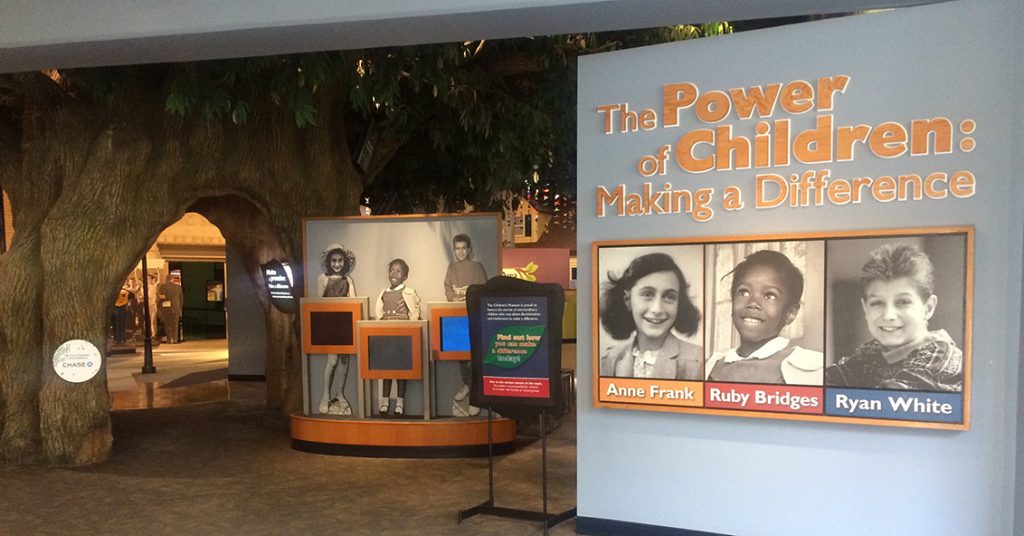 In a complete 180 on Floor 3, opposite of Playscape you find The Power of Children.
This exhibit can be mature for some kids, but the museum does a great job of allowing the adult to decide what their kid is and isn't ready to learn.
The exhibit follows the lives of 4 children who faced discrimination and stood up against bias. Like Treasures of the Earth, there are 4 different places you can start. Each section has a road, modeled to look like the road each child would have walked in their life, that leads to a building dedicated to each of the children.
The children highlighted in the gallery are Anne Frank, Ruby Bridges, and Ryan White, and Malala Yousafzai. They discuss how these children stood up against racial discrimination, and bias against disease.
As the parent, you can decide how much you tell your kids about the exhibit and the details of what it discusses. This is an extremely powerful exhibit, and I've seen many young kids having a good time in it without knowing what's written around them. The museum does give suggestions on how to approach these difficult topics with children, and encourages adults to have appropriate conversations with them to help them understand.
Each of the 4 buildings has a presentation that runs on a set time loop. There is an announcement before one starts so you can be sure to enjoy it. They also bring in actors who do performances as the people from these real life stories. Actors do interpretations as Anne Frank, her father, Ryan's friend, and Ruby's teacher. Fun fact: Ruby Bridges won't allow any interpretations of herself while she is still alive.
Elton John performed at Clowes Hall in Indianapolis benefiting The Children's Museum in 2010 to mark the 25th anniversary of his friend, Ryan White, passing. Ryan's room at the exhibit perfectly replicates his room in Muncie, IN.
Ryan's mom moved to FL, but she still visits the exhibit once a month to continue to raise awareness just like Ryan did during his life. If you visit and see a woman passing out bracelets at a table in Ryan's section, talk to her. She's probably his mom.
If you visited in the past, this exhibit replaced Mysteries in History (1985 – 2006).
Carousel Wishes & Dreams
Location: Level 4 Entrance: Level 4 Theme: Whimsy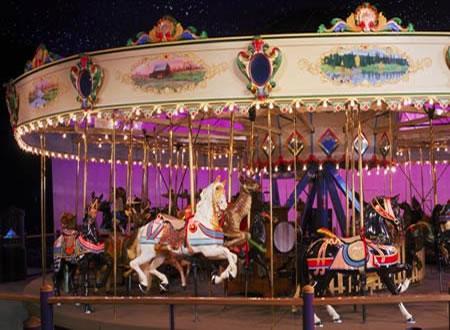 This is another exhibit that can be a long visit. One of the classic exhibits which features a restored 1917 Carousel which used to be in Broad Ripple Village on the bank of the White River. The carousel costs $1 per ride, but is included with a membership. The carousel has 3 different kinds of seats. There are sleighs with bench seats – great for those with small kids and babies who need to hold them during the ride.  There are stationary animals – these have all 4 feet on the ground and do not "jump" during the ride. There are also several "jumping" horses – these move up and down during the ride. If I remember correctly, children 9 years and younger are not allowed to ride the jumping animals. Museum staff should direct you.
There are also playhouses hosted in the exhibit, including one that used to belong to Eli Lilly's daughter.
At the entrance you'll find the entrance to a maze filled crawl spaces, toys from decades past, and whimsical things to see and do. Even a small room with mirrors on every side. This is a really fun exhibit with lots of tunnels and elements to explore.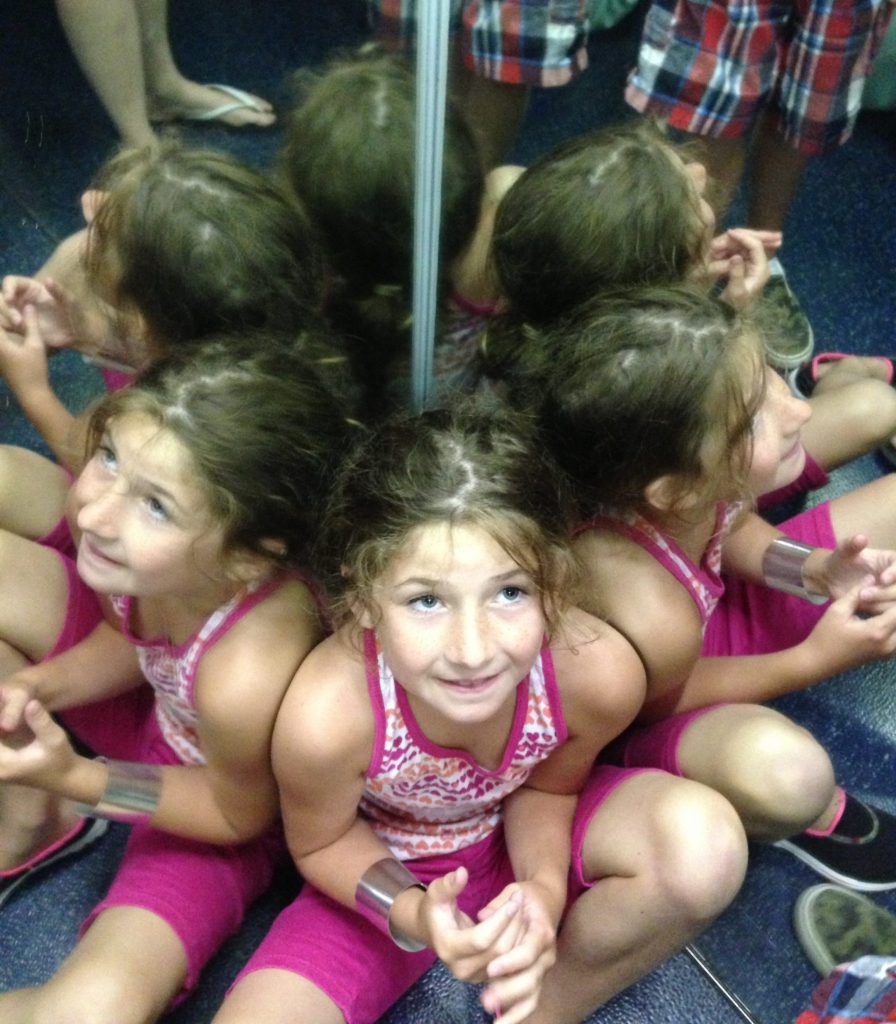 ScienceWorks
Location: Level 4   Entrance: Level 4   Theme: STEM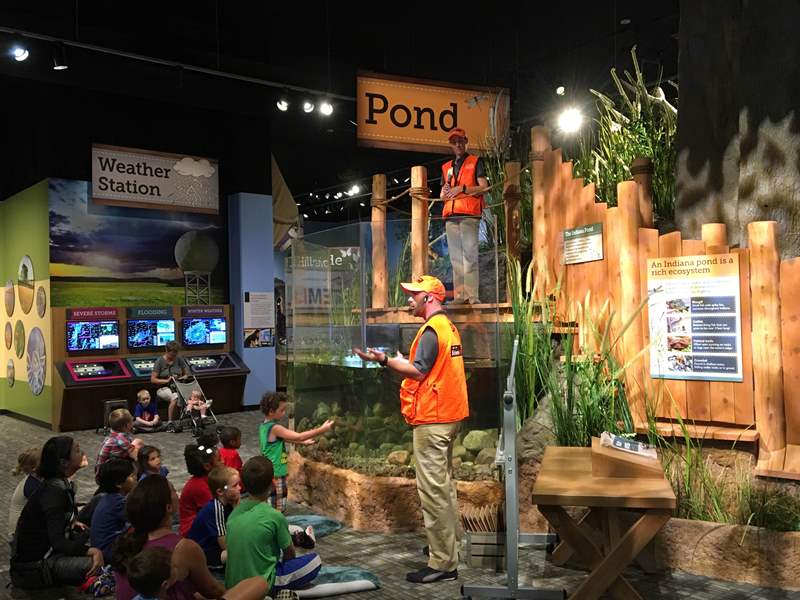 Science works has always been a favourite exhibit. This exhibit has always been a high-activity, hands on exhibit filled with tons of fun. When I visited after the reopening, I was a little disappointed to see some of the more active elements had been removed during the exhibit revamp , but I'm happy to see that some of those elements are still there now. Looks like a revisit is definitely due for me!
This exhibit features sections with lessons on environmental sciences like weather and farming. There are also exhibits about cave systems, and chemistry behind water systems. They have always done a great job of making all of these topics extremely interesting and fun. They also tend to focus locally so everyone is learning about the plants, animals, and water systems that affect their community and how science works to make them work for all of us.
If you visited in the past, this exhibit will looked markedly different despite maintaining its name. The mining activities and crane have been replaced, the boat building and the underground tunnels have been removed.
Other Things to Look for
While there are so many cool exhibits in the museum, be sure not to miss any of the mini exhibits spread out through the halls.
You can find lots of fun exhibits like a woolly mammoth, Indy car you can get inside, and a collection of doll houses. These don't take up much time, but are really fun to discover as you make your way around the levels. You can find the exhibit "Stories from Our Community" along the halls, and they've even featured items from a Star Wars collection throughout the halls in the past.
Outside the Museum
Just outside the Sunburst Atrium, is a small garden with miniature replicas of famous structures. Its a commonly overlooked area so it's usually not crowded at all. It's a nice area to get away and just have a calm walk. Keep a lookout for a chestnut tree. The museum has a sapling from the actual tree that was outside of Anne Frank's window that she wrote about in her diary. TCM is the first place in America to be given a sapling from that tree.
Sports Legends Experience
 Location: Outdoors   Entrance: Level 1   Theme: Sports
Ok full disclosure, I know I called myself a pro and I've always considered myself one given my extensive experience with the museum, but they went and installed an awesome new outdoor section that I haven't been able to visit yet. This area was announced and under construction while I was interning at the museum and to my chagrin I have not been able to visit yet. It's definitely on my list to do and I will update after I do. For now, here's a great peak at what this area has to offer.
I finally got to go back and check this out. It's pretty cool and could definitely take up a good chunk of the day. We climbed to the top of the tree and got a good look. It really is a cool facility. It could be one of the coolest playgrounds your family hits this summer, but its all sports. My only concern would be playing here to your hearts content and running out of time in the museum!
This area features elements from sports and activities to encourage kids to get outside and be active! It's also a great place to learn and improve some sports skills in a safe place with coaches who know the game. Sports Legends Experience is included with the price of admission to the museum. All outdoor areas are weather dependent. Always check the forecast and the museums website for closures. It is also seasonal. Trust me, you don't want to go out there during those Midwest winters anyway. There is an indoor portion of the exhibit that features hockey and basketball that is open year round.
AVENUE OF CHAMPIONS
Indiana is home to many sports legends throughout history. The "Avenue of Champions" features 16 statues and histories of people with ties to Indy. It's a fun way to see prominent members of the sports community and perhaps inspire a budding young athlete. We learned about some athletes and sports teams we had never even heard of before.
BASEBALL
Learn about one of America's oldest games, hang out in a dugout like the big leagues, practice your homerun, and perfect your curve ball with a pitching tudor. You can also learn about the Indianapolis Clowns baseball team, and pretend your batting in an Indianapolis Indians game with the photo-op section! These guys looked like they were having a blast with a mini-game going.
BASKETBALL
In the land of Hoosiers, basketball is a must! Play as a member of the Pacers or Fever and learn some fundamental moves to take yourself up to the big leagues. Perfect your shots, passes, and beat the clock – or outpace your family members – at the shot clock. There were several hoops in all different heights so anyone can play at their level.
FITNESS PATH & TRACK
This features a 2/5 mile track with stations to work out some various muscles. Learn about runner Wilma Rudoph. You can go through the 5 stations of the section starting with a warm up, and wrapping it up with a cool down. Plus, learn exercise tips from representatives from Riley Children's Health to help you get the most from your exercises. My sister and I had fun messing around on their outdoor fitness equipment, and getting a better look at the mini-golf course.
FOOTBALL
Pulling inspiration from the Indianapolis Colts experience first hand what it's like to defend your end zone by learning how to grip a football properly and avoid opponents. Learn about local legend Reggie Wayne, and try out your chops as a kicker with either of the 2 goal posts. As always, they have a size for the little kickers and the big so everyone can try. Finally, pass the ball to family members as they dodge around cutouts of opponents. There was even a station where you could pass the ball to a family member and try to dive over a wall of defenders. I saw a dad and his kids try it, and it looked like so much fun.
GOLF
Featuring a 9-hole course with difficulties for beginners to pros. Learn about Pete and Alice Dye while perfecting your putting skills. There are even 2 holes designed by Pete & Alice with replicas of some of those most notable designs from all over the world. This area has scheduled programming you can participate in. Don't worry if you or your loved ones are new to golf. There is an introductory course to bring you up to speed so you can get the most out of all the skills you'll learn. There's even a toddler course for the budding golf pro! They were putting with tennis balls when we visited. I imagine that's for the best as the course is close to many of the others. I do wish we would have had enough time to check this out because the course was really pretty.
HOCKEY
Play on the street rink and shoot or guard during some street ball. You can learn how to pass and shoot properly with your family. Perhaps this will even inspire some new games for your backyard.
RACING
Indy is of course the home to some major races. Experience your own Indy 500 with the pedal cars at the racing section. There's a pagoda to learn the history of the famous local race, and a safety video so everyone has a great time with no injuries. After you win your race, you can get a photo in the Winner's Circle. These seems to be the most weather dependent, and all parts of it weren't being run when we visited at the end of the day. I would definitely check the daily schedule if you have your heart set on this one.
SOCCER
Take the offensive or defensive position during some shooting practice. There are large and small goals to practice different fundamentals of shooting a soccer goal, and work on your dribbling and passing skills as you go down the field.
TENNIS
Following the guidelines for USTA's 10 and under tennis, kids can get their first introduction to the racket game. You can pass the balls back and forth, stretch your forehands and backhand hits, and learn about Barbara Wynne and her passion to teach tennis.
TREE OF SPORTS
This 25 foot climbing tree lets you climb in and out of the sports featured in the exhibit, explore with talk-tubes, slide down the slide, and get a bird's eye view of the "Sports Legends Experience". This looks like a blast to explore, and I'm sure it'll be one of the highlights of the trip. See if you can spot the broom branch and find out what it means by exploring inside the tree.
The tree does have a lift for accessibility options. Be sure to ask a staff member for more information.
The Children's Museum of Indianapolis has always been one of my favourite places to visit in the city. Don't worry about rushing to get to everything. There's always something new to discover every time you visit. Have fun, relax, take it at your own pace. You can follow my suggested order or jump around however you like. Either way, I do recommend grabbing a list of daily live events and performances from the info booth at the start of the day. It is easy to miss these and they really do add a lot to the experience. Whatever you decide to do, let loose and have fun. Remember, these are more like guidelines anyway.