I've set off on my first true RV trip. Since it's January, I wanted to find someplace warmer so I headed to Texas. I've never been to the southwest before. I'm currently in Fort Worth so I visited the Fort Worth Zoo. Apparently, it is the #1 zoo in the country.
First of all, who visits a zoo in January, right? I had the same thought, but I hoped it'd still be warm enough to see the animals. Second, the zoo is going through a major renovation. What better time to do that than with so many public places being closed or reduced, but I think they had this in the works already. Unfortunately, this means most of the savannah animals were off display. So sad because that included some of my favorites included tigers, lions, and the elephants. Technically, you could still see the elephants, but not clearly since they were in their smaller enclosures without good sightlines.
              When I first arrived, it was nearly half an hour before I saw any animals. I walked around the World of Primates and didn't see anything. It was cold so it makes sense they weren't in the outdoor enclosures, but they didn't seem to be in the indoor enclosures either.  It was pretty disappointing because they had some very large and intricate enclosures. I heard some other patrons express their disappointment throughout the day too.  Luckily, I circled back at the end of the day before I left, and saw a couple apes, but it didn't seem like nearly enough for the enclosures available. Plus, they were all in the same small area that seemed to connect to a back room that they all eventually retreated into. Obviously, they need a place to take care of the animals, but keeping them there the whole time seems a bit fruitless. If I had been with my mom, she would have been extremely disappointed because the monkeys and apes are her favorites.
              There was a small part of the savannah still open, the giraffe enclosure. I walked around the whole thing, but couldn't find anything besides birds. Like I said, it was a cold 50 degrees so I can't say I  was too surprised. There was a funny ostrich poppin' his head around. And then I ran into a large vulture just chillin on one of the walkway fences. He definitely was not supposed to be there. It was kind of funny. Luckily, vultures are carrion birds and don't attack live prey so we weren't in danger and walked past without an issue, However, this one guy, I thought he was part of the construction crew but he may have been a visitor, walked up to him and was like talking to him. The bird didn't like that since he got much closer than anyone else. The vulture did kind of hissed at him and raised his feathers at that, but the guy just wanted to get between the bird and the walkway so the parents with small kids could feel safe passing.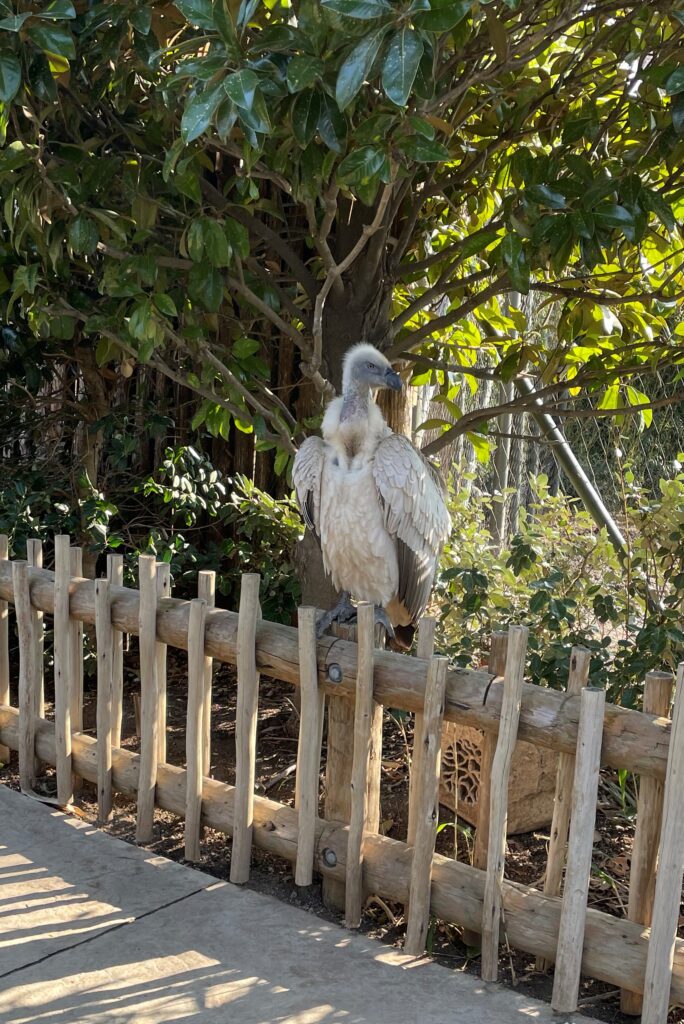 I did get to see the hippos pretty close. They have an aquatic enclosure and spent most of their time pretty close to the glass. In the morning, they were cuddled up sleeping. Hippos normally freak me out a bit since they are one of the most dangerous land animals on the planet, but these were so cute. The one was snuggled up on the other and looked like he was smiling. I saw these guys again later when I circled back, and they were trotting about the bottom of the pool. Definitely, a well set up area since the areas kept the animals wanting to be very visible.
I had to circle back at the end of the day to see the other animals in this area. I saw a black rhino, and he also was fairly close to the pathway. I was also happy to see the giraffes were out when I came back. The tallest ones were on the far end of the enclosure away from the guests, but two of them came right up to the gate even so far as to duck under the wire to keep them back. They had to so people could feed them! I really like how the Fort Worth Zoo does their giraffe feeding. Other zoos I've been to have an area where only people who have paid for the feeding experience get to enter. This results in the giraffes only coming close to that area so everyone who didn't pay doesn't really get to see them. But not so at the Fort Worth Zoo. People buy the bundles of leaves and then line up wherever they can to feed the giraffes. This resulted in those who didn't pay (like me) to still get to see the giraffes up close. I was next to several people who fed the giraffes, without taking away from their experience since it wasn't crowded, and got to see the giraffes with them. I even helped out a mom by taking pictures of her kids while they fed the giraffes. The two smaller giraffes who came up to the fence even came up to me to check me out and see if I had anything for them. I really liked this set up because I've never been able to see them so close before. There was a staff member monitoring to yell at people not to touch the giraffes. They really were that close, and it was so difficult to keep myself from petting them. I wanted to so bad, but yeah don't get any ideas. If you want to feed the giraffes, it is $6 for a bundle. "A bundle" is three leaves. They look like romaine lettuce leaves. $2 per leaf seems like kind of a rip off to me, but if you have your heart set on feeding the giraffes, go at it! I'll stand by and watch.
Walking through the rest of the zoo, I found myself constantly feeling like I had missed something or having to backtrack. There are so many little break always that lead to other animals. So pay attention so you don't miss anything. When I walked into the Texas area, I got all the way through and back to the beginning before realizing I had totally missed the wolves, otters, and crocodiles. I had to go back and do the whole thing again. What happened was there was a fork and I needed to go right to see those animals, some of my favorites, but I went left thinking that right was the main path and I didn't want to miss anything. Turned out, going right was actually a dead end and where the animals were. I couldn't see the crocodile anywhere, I'm not sure it was there. I did get to see the cougar and jaguar. They were pretty active and easy to see. If I didn't get to see the tiger, which I knew was off exhibit when I bought my tickets, then I'm glad I got to see these other large cats.
              This zoo has a lot of birds. There was the vulture I mentioned earlier, many different flamingos, parrots, and lots of other birds. The ostrich I mentioned earlier was funny to watch again later when I saw the giraffes. He was messing with them. I literally saw this bird sneak up behind the smallest giraffe and then hiss at him to scare him into running away. I saw no purpose to this except just to mess with the giraffe. It was funny. I also saw an enclosure with hummingbirds and a red tail hawk together. The smallest bird with such a large bird of prey. The hawk actually started tracking me as I walked around the glass, and then it came at me! It didn't come off its perch and hit the glass, but it lunged and got to the end of the branch coming at me. Glad there was glass in between and he wasn't just chillin on the side like that vulture.
They also a had a pretty nice looking petting zoo in this area. There's actually a branch off children's area that includes the petting zoo. I didn't go in there, but it looked like a lot of fun for little kids. There's also a train that goes through the center of the zoo. There's a station near the World of Primates, and another by the Texas Country area. You can also buy tickets to ride the carousel at the Texas station. The Hall of Wonders and Texas Nature Traders were closed when I visited so I'm not sure what those are all about. I bet they're worth visiting if they are open when you visit.
They also have a small Australian Outback section with sharks, kangaroos, and penguins. There were no kangaroos out when I went by, and I didn't see any sharks either. Kangaroos obviously need warm climates, but I don't think that should have affected the sharks. Honestly, I don't even remember seeing a place that sharks could have been so I'm not sure what happened or if I missed it. It's a pretty small section with a simple path so I'm not sure how I could have skipped by the shark enclosure.
Overall, it is a nice zoo. I would very much like to come back in the spring or fall when it's a little bit warmer, but not super hot. My visit would have been perfect for large cats I think. The new area they are building looks really cool! I'll have to come back sometime after 2023 when it is finished and all those cool animals go into their new habitats.
              A couple small tips from my brief visit. There are several places to get food. Many of them were closed because of covid and reduced admission, but the main ones were open. The Crocodile Café's prices were slightly better than the prices at The Bluebonnet Café. Plus, at the Crocodile, if you get a good seat you can sit and watch the crocodiles outside the reptile exhibit while you eat. When I was there, they were on land sunning themselves right close up by the windows to the café. I didn't end up eating at the zoo, but this is where I would have. The Bluebonnet has a western styling, but the setup seemed crowded to me (even though it was completely empty). It just had that feeling that it'd be a bit less relaxed when people are actually there. But it is really convenient to the Texas area of the zoo (it's right inside the faux main street), plus it has Pizza Hut and Barbecue if that's what you're in the mood for. There are also a lot of smaller places and snack stops that weren't open when I visited, but I bet more will be open in the height of their season.
My other tip would be to download the app. They had a sign at the entrance with a QR code to a map, but I didn't realize they had an app until halfway through. The map in the app is a little outdated, but they'll have to update when the expansion is finished. It didn't seem to have anything incorrect though, just a "coming in 2019" over the petting farm.
They have half-priced Wednesdays. I took advantage of this, and it made the admission very reasonable. If you can go during the weekday, I'd definitely recommend considering this. It wasn't busy at all while I was there, but I can't speak for warmer days. I'd expect a lot more moms with young children on a Wednesday than on the weekend.
              Finally, currently (Jan. 2021) you MUST make reservations to enter the zoo. They have staggered entry times, and not many people were in the zoo while I was there. It is off season, and the virus is still on the mind so I'm not entirely surprised. I didn't make my reservations until the night before with no problem. I wouldn't count on that though, and definitely make sure you have your reservations made before you leave home. You can keep it on your phone and scan at the entrance.
But hey there are no real rules to visiting a zoo, these are more like guidelines. Have fun!